Bolted Joint (railway)
Assignment BAM Rail BV
BAM-Rail asked Infra Sensor Solutions to monitor a bolted joint by the use of FBG's behind the NAC football stadium in Breda. A configuration of several sensors to register the movement, vibration and pressure on the bolted joint was build. The purpose is to show the improvement in stability using a 'Shimlift'. The Shimlift is developed in a joint effort of BAM-Rail and Movaris.
Because of the intense maintenance and extreme malfunctioning of this type of bolted joints, we received the order to give an insight to the influence of train passages on this bolted joints.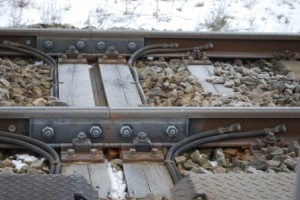 The bolted joints, there are more than 7.000 of these elements in the Dutch railway net, is a component that connects the different parts of the rail. Because of the extreme malfunctioning and the intense maintenance required, it delays the train traffic. The 'Shimlift' is supposed to improve the railway traffic in the near future, by reducing the maintenance on those particular locations and to improve the functionality of these components.