Fly-Over Breda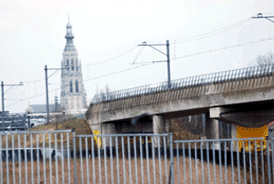 Close to the NAC football stadium we build our reference location. As a part of the total installation we applied several sensors to the existing fly-over. The configuration is build to determine the side pressure during passage of the train traffic on this fly-over. We installed both on the inside as on the outside a configuration of bragg sensors, to give insight about the total movement of the fly-over. By collecting information and building statistics our customers are able to predict the maintenance in the near future. We also measure the load of the fly-over, so we are able to compare this to the design parameters.
Example of what can be measured!
The weight of passing railway waggons;
The axle load of passing trains;
The unevenness in wheels of a train;
Movement of the fly-over (vertical and side pressure);
Timestamps of passing trains;
Number of waggons per train;
Train speed;
Et cetera.